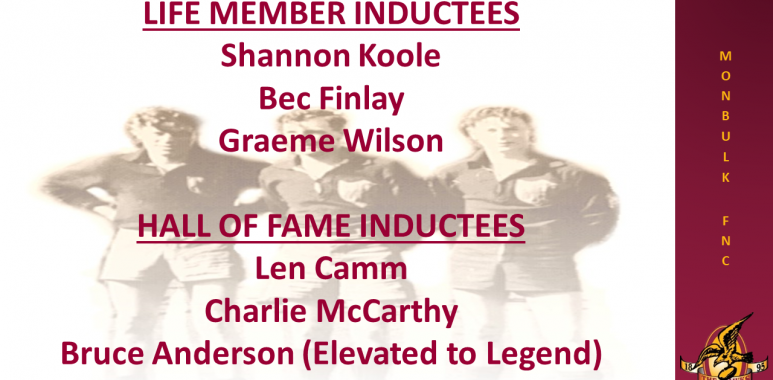 MFNC "Hall of Fame" Inductees
At last Saturday's Life Members and Hall Of Fame luncheon the Monbulk Football Netball Club inducted 2 new Hall Of Fame recipients and elevated our 3rd member to Legend status.
The Hall Of Fame was established at Monbulk in 2008 after Gary Wragg had been pushing its cause since 2000. There are now 34 past players who are recognised for their significant on-field contribution to the Monbulk Football Netball Club.
Family members attended to receive the awards for the recipients.
Charlie McCarthy was represented by his 90 year old son, Charlie 'Mac' Mcarthy, Mac's wife Elaine and their daughter Anne.
Len Camm was represented by daughter Bev McAlister, granddaughters Caroline and Kate McAlister and great grandson James McAlister.
Bruce Anderson was holidaying in Queensland and phoned in to show his appreciation for the recognition and to show how warm and sunny Queensland is at this time of year. His nephew Graeme Rankin accepted the award on his behalf. HOF upgrade to Legend – Bruce Anderson Played 1957 – 1984 Games 327 (217 Senior, 70 Reserves, 40 Under 16s)1959 Under 16s Most Consistent (when aged 13)1960 Under 16s Best & Fairest + Captain of Monbulk's Under 16s premiership,1960 Won the Sunkick competition (sponsored by The Sun newspaper) representing Essendon for the biggest kicking schoolboy in Victoria using both feet, 1961 member of the Under 16s premiership side although spent half of the season playing seniors at the age of 15. 1962 spent a year with St.Kilda Under 19s. 1963 returned to Monbulk and was Vice-Captain of the Seniors at the age of 17 and played in Senior Grand Final v Upper Ferntree Gully. 1964 rejoined St.Kilda Under 19s and also managed about 6-8 Reserves games with them. 1965-1974 played with the Monbulk Seniors, primarily as a rover, for 10 years where he won the B&F in 1968, was runner-up in 1971 and Most Consistent (3rd) in 1966, 1969 and 1973. 1970-1972 was Captain-Coach and took Monbulk to Minor Premiers in 1971 (finished 3rd) and the Grand Final in 1972. He was Vice-Captain as well in 1968 1969 and 1973. In 1974 he played 5 games in the reserves and came Runner-Up in the B&F. 1975 Won the Club and League Reserves B&F as well as playing in the Reserves Premiership. 1976-79 retired due to work commitments. 1980-1984 played reserves (plus 6 senior games) and was Vice-Captain of the 1982 Reserves premiership. 1983 Assistant Coach for the Senior premiership. 1987 Assistant Coach for the Senior premiership. Spent about 25 years on the Monbulk FC committee.
Hall Of Fame inductees:
Len Camm played 130 games 1932 – 19471935 premiership player. 1945 Captain-Coach. He was the only Monbulk player to win multiple League Senior B&F awards in 1934 and 1945 in the MDFA. Monbulk B&F in 1934 (and probably 1945, records don't exist). Kicked an equal club record of 17 goals in a game (v Mt Evelyn in 1934)
Charlie McCarthy – played 105 games 1919 – 1932. A 4 time premiership player 1919, 1920, 1921 and 1923. Captained Monbulk in 1925. Melbourne and Richmond sought his services in 1922 but he was unable to play VFL due to work commitments.