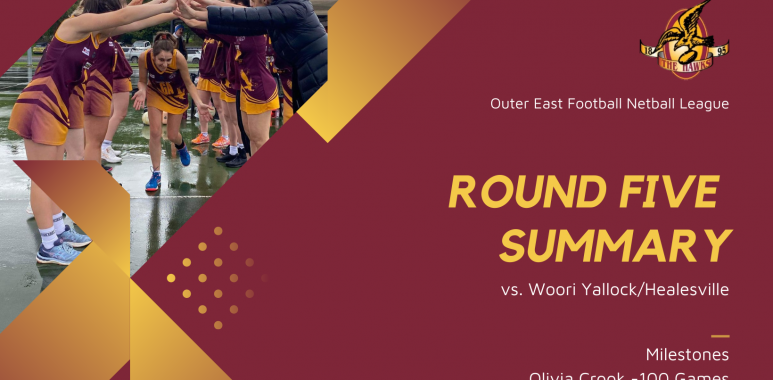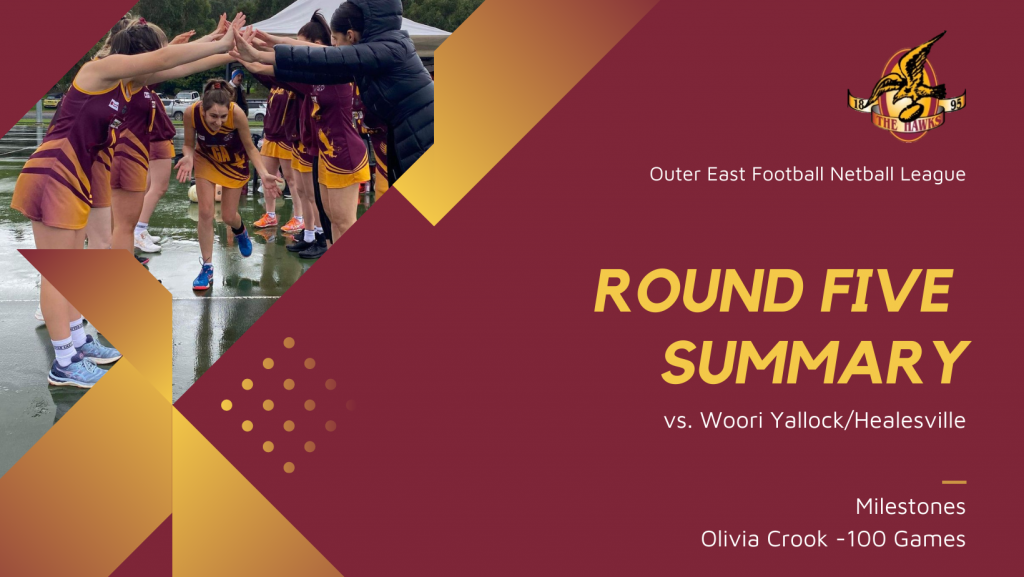 Monbulk FNC Outer East Premier Division Results – Round 5
Monbulk and Woori Yallock first met in competition matches in August 1904 when they were both founding members of the Evelyn Football Association, a forerunner to the Mountain District Association (1911-1965). Apart from 1937-38, it wasn't until 1966, with the formation of the merged YVMDFL, that they were to again become regular foes on the football field. Woori have been power of the competition since then and a trip to their ground was a daunting challenge where Monbulk only emerged victorious 4 times in their first 27 encounters there up until 1995. In recent times however, despite the Tigers continued success, the Hawks had found a way to win now. Heading into Saturday's clash with the undefeated 2nd placed Woori, Monbulk had an encouraging record of having won 9 of their previous 11 matches, although they also hadn't played each other since 2018.
Milestone Games 🤩
Olivia Crook – 100 games
Nickname: Liv/Livy
Position: Ga/wa
First game 2015
What do I love: all the babes that I get to play with!
Team goal: play finals
Who do I look up to: probs Shayne coz she's so encouraging plus she's always down for a good time

We're so lucky to have you at Monbulk FNC Liv 🤩
Football 🏉 🏉 🏉
Seniors 🏉
With morning showers and threatening skies the Monbulk and Woori Yallock teams fought out a typical encounter in the Seniors. Both sides showed a willingness to work hard with desperation rather than skill being the overriding feature. The day long arm wrestle resulted in a meritorious win to Monbulk by 7 points after coming from behind with a 5 goal to 3 last term and this keeps them in touch with the top 5.
Woori Yallock 13.6.84 def by Monbulk 13.13.91
Best: Pat Barge, Hayden Finlay, Glenn Strachan, Lochlan Beecroft, Thomas Taylor, Ashley Beck
Goals: Taylor Joyce 4, Hayden Finlay 2, Steven Oates 2, Glenn Strachan 1, Mackay Bateson 1, Josh Spencer 1, Coby Passingham 1, Ben Hughson 1

Reserves 🏉
The Reserves are edging their way towards a win as they become more competitive each week. Despite only having 16 players they were able to register more scoring shots but accuracy cost them.
Woori Yallock 15.3.93 def Monbulk 8.15.63
Best: Tyrone Vear, Thomas Trezise, Jayden Mauchline, Steven Shankly, Shane Van Seters, Kenny Beecroft
Goals: Jayden Mauchline 4, Sage Farmer 1, Thomas Trezise 1

Under 19s 🏉
The Under 19s again provided a host of players to the Senior team, with Ben Hughson and Ben Smith debuting to become the 7th and 8th members to already represent the Seniors after just 4 games, probably a club record. The unbeaten 2nd placed Bloods were in a similar situation and each side mustered just 15 players, which left plenty of room to move on the expanses of Healesville. After quarter time Monbulk were impressive in their ball movement, restricting Healesville's scoring while they were able to draw away and establish a 50 point win.
Healesville 4.4.28 def by Monbulk 11.12.78
Best: Nick Taylor, Ziggy Hatherley, Patrick Snoxell, Tahi Kostich-Angerson, Zeke Charlton, Jai Farmer
Goals, Patrick Snoxell 3, Ziggy Hatherley 2, Tahi Kostich-Angerson 2, Gary Ross 1, Nick Taylor 1, Jai Farmer 1, Riley Finlay 1

Netball 🏐 🏐 🏐
In the netball, Monbulk, Woori Yallock and Healesville are all unable to field a full complement of 4 Grades which resulted in a mixed fixture when they met at the Don Road Reserve in Healesville.
A Grade 🏐
In A Grade Monbulk were missing regular goal-shooter Tarnee and were evenly matched with the Woori girls. The Tigers established a small lead early and were then able to maintain that advantage for the remainder of the game.
Woori Yallock 53 def Monbulk 49
Best: Nicole Macdowell, Stephanie Puopolo, Sophie Stubbs
Goals: Stephanie Puopolo 37, Sophie Stubbs 12
B Grade 🏐
The B Grade team met a depleted Healesville side and were able to register an emphatic win to keep their place amongst the ladder leaders.
A special shout out to Olivia Crook who played her 100th game for the club.
Healesville 11 def by Monbulk 54
Best: Iris de Wit, Tess Horton-Crundall, Alice McCormick
Goals: Iris de Wit 38, Olivia Crook 16

C Grade 🏐
Monbulk's C Grade team scored their second win for the season and this sees them in a group of 4 teams fighting for 5th place. Coaches are confident wins will keep coming after the team continuously implements skills that are being focused on at training.
Woori Yallock 23 def by Monbulk 29
Best: Rhiannon O'Connor, Jessica Steele, Indy Bakker
Goals: Jamie Sands 15, Chloe Schmidtke 8, Jenna Schnehage 6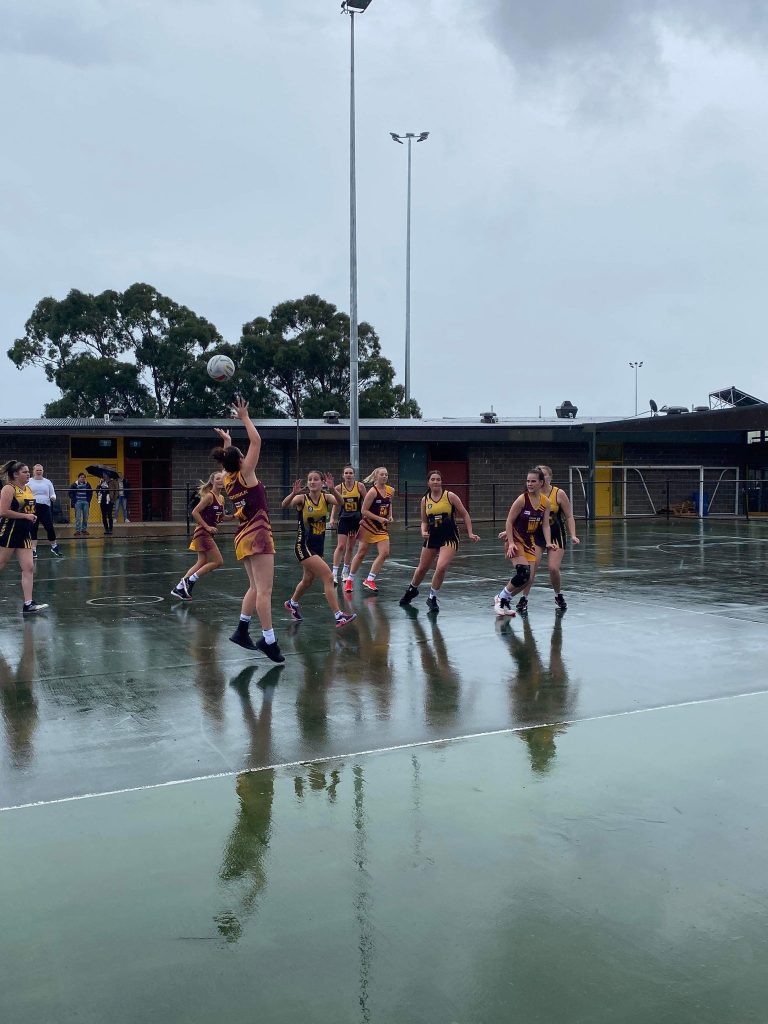 Next week we return to the nest where Seniors, Reserves and Netball take on Wandin and our Women's football face Yarra Junction. 
Under 19s have a bye.