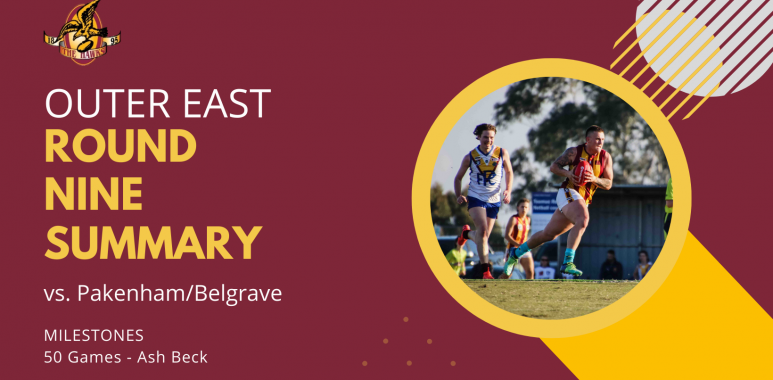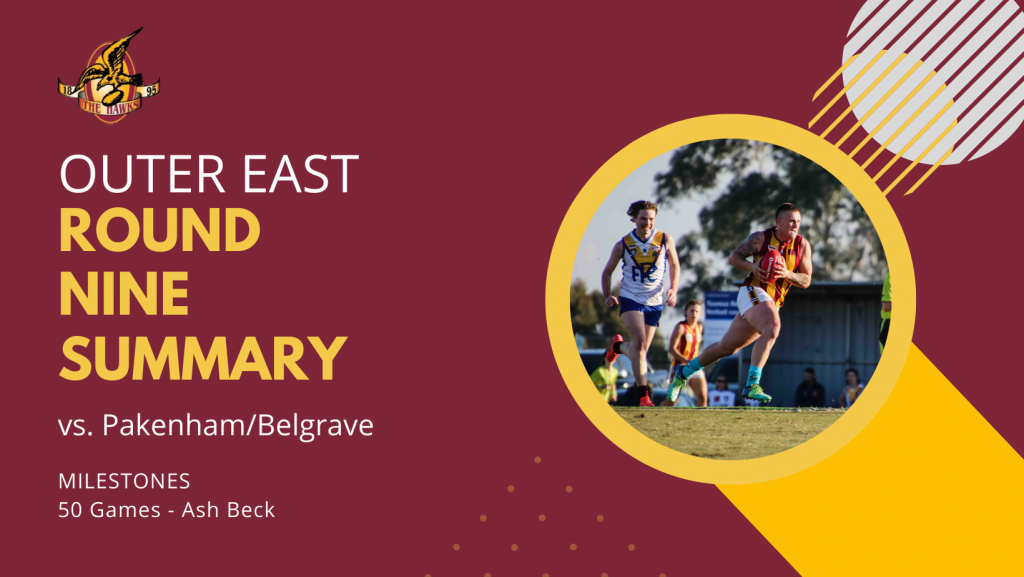 Outer East Premier Division Round 9 2022
Hawks win in war of attrition.

The first half of the season concluded on the weekend when Monbulk travelled to Pakenham, with both clubs level on points in fourth place. Since the YVMDFL merged with the South East League in 2019 it has pitted large outer suburbs against smaller hills communities. Pakenham, with a population just shy of 60,000 has a huge natural advantage over a town like Monbulk with about 3,500 residents. Another challenge for the Hawks was that Pakenham played the larger grounds well and had a strong home record. The only previous meeting of these two clubs on the Toomuc Reserve in 2019 resulted in a 68 point win to the Lions.
FOOTBALL 🏉 🏉 🏉
Senior 🏉
It was a perfect day for football after recent cold and wet weeks, with sunny breaks and unexpected calm conditions greeting the players. Ash Beck played his 50th senior game for Monbulk since joining the club from Beaconsfield in 2018. Monbulk's game plan worked to perfection in the first quarter as the Hawks controlled the play whilst adding 5.4 to nothing by the first break. Pakenham responded with three early goals in the second term before the visitors were able to tighten up. The Hawks then lost two players to game ending injuries but reasserted their supremacy around the ground. In the second half Monbulk always had Pakenham's measure but further injuries and inaccuracy in front of the sticks allowed the Lions to remain within striking distance until late in the last quarter. When the siren sounded Monbulk had recorded a solid 19 point win on the back of 25 scoring shots to 11. The win sees them secure outright fourth place and also retain their perfect record away from home this season.

Pakenham 8.3.51 def by Monbulk 9.16.70
Best: Glenn Strachan, Joshua Spencer, Lochlan Beecroft, Benjamin Grimes, Kai Linde, Mackay Bateson
Goals: Glenn Strachan 5, Hayden Finlay 2, Mackay Bateson 1, Bailey Rutherford 1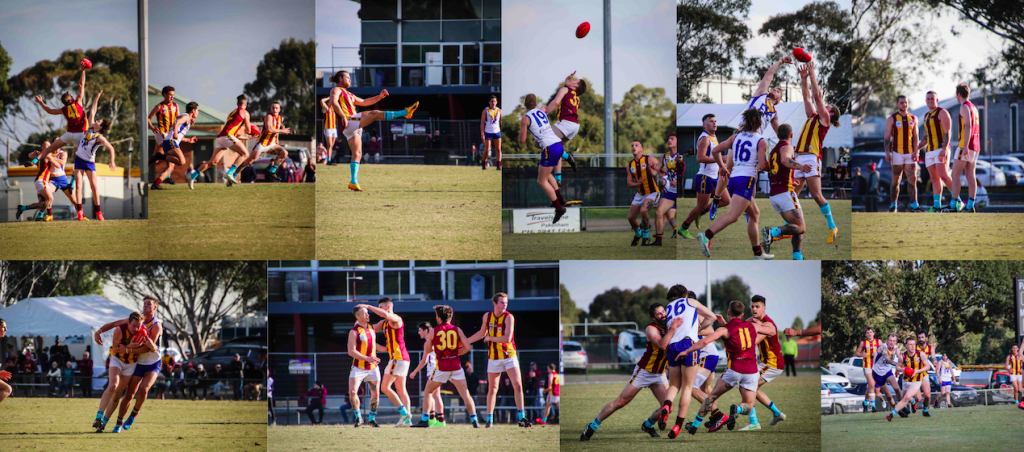 Reserves 🏉
In the reserves match the second placed Pakenham had a better understanding of each other's game plans as the last placed Monbulk team failed to consistently string together passages of play despite some individual brilliance. Both sides were undermanned and relied on several Under 19s players to play a second match.

Pakenham 14.13.97 def Monbulk 3.4.22
Best: Matthew James, Dale Ross, Riley Finlay, Chris Separovic, William Henderson, Tyrone Vear
Goals: Dale Ross, Tyren Utting, Lewis Oliver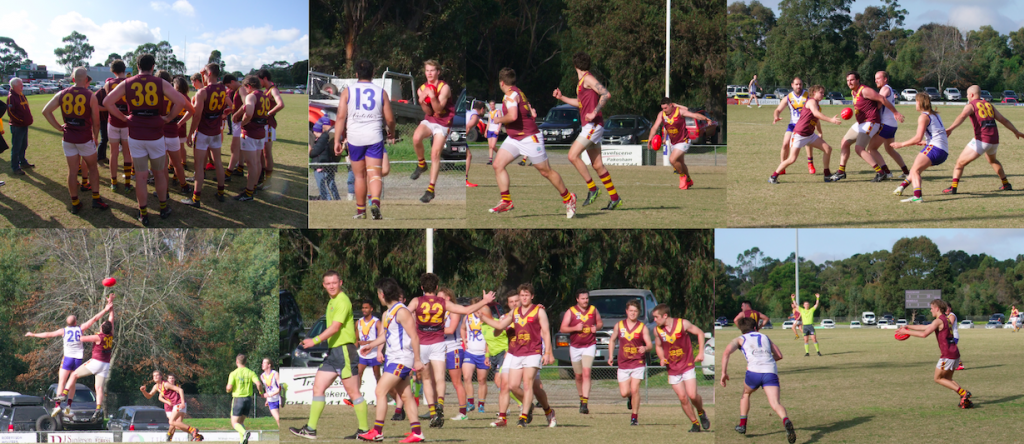 Under 19s 🏉
Monbulk's Under 19s had an early start at 8.50am but this did not seem to deter them. Attacking the ball ferociously and with fast coordinated forays forward, the Hawks dealt with every challenge to dominate the game from start to finish. An eight goal opening term was as good as any football that they have played all season. The pride and commitment shown right through was the reason that they managed to keep Pakenham from even registering a score. This was the first ever win that Monbulk has recorded over Pakenham at Under 19 level.

Pakenham 0.0.0 def by Monbulk 14.12.96
Best: Ben Hughson, Patrick Snoxell, Harry Fleming, Coby Passingham, Gary Ross, Tait Colee
Goals: Harry Fleming 6, Ziggy Hatherley 5, Jed Noar 1, Liam Lourey 1, Patrick Snoxell 1

Women's 🏉
The Monbulk Women's football team played a twilight match at Belgrave. Although they battled hard to drive the ball forward, they were hurt on the rebound on occasions by some of Belgrave's direct attacking moves.
Belgrave 8.8.56 def Monbulk 2.3.15
Best: Indy Bakker, Shania Turner, Jade McCormick, Laura Gillard, Molly Horne, Ayla Short
Goals: Laura Gillard 1, Shania Turner 1

NETBALL 🏐 🏐 🏐
The Netball matches were also played at Pakenham as Monbulk visited the James Bathe Sports Hub to meet the locals while the courts at Toomuc Reserve are currently out of action.

A Grade 🏐
In A Grade it was the fifth placed Lions and sixth placed Hawks that would meet in a vital encounter for both sides. The first quarter was evenly contested before Monbulk produced some scintillating netball for the assembled crowd. The margin grew steadily throughout the match after the first term until Monbulk had registered an emphatic 17 goal win and leapfrogged Pakenham into fifth spot.

Pakenham 31 def by Monbulk 48
Best: Nicole Macdowell, Paige Whitworth, Mackenzie Oracz
Goals: Tarnee Adams 33, Stephanie Puopolo 15

B Grade 🏐
The B Grade Hawks met stiff opposition from a determined Pakenham side who were determined to bely their ladder position. In a neck and neck struggle the Lions held a slender lead of 1 goal at three quarter time before the Hawks machine got going in the final stanza which produced 15 goals to 7. With Olinda losing to Wandin, this result now puts the Hawks two games clear in second place.

Pakenham 41 def by Monbulk 48
Best: Georgia Himmelreich, Dayna Walsham, Siobhan Munday
Goals: Dayna Walsham 33, Olivia Crook 15

C Grade 🏐
C Grade were jumped by Pakenham in the first half before they regrouped and fought out a fairly even second half.

Pakenham 42 def Monbulk 26
Best: Tasha Selby, Jamie Sands, Sammy Beecroft
Goals: Jamie Sands 21, Chloe Schmidtke 5

Please note that this weekend (25th of June) our 3 netball teams play Beaconsfield and Under 19s play Emerald at the NEST 🦅 Whilst our Seniors, Reserves and Women's Football have a bye.