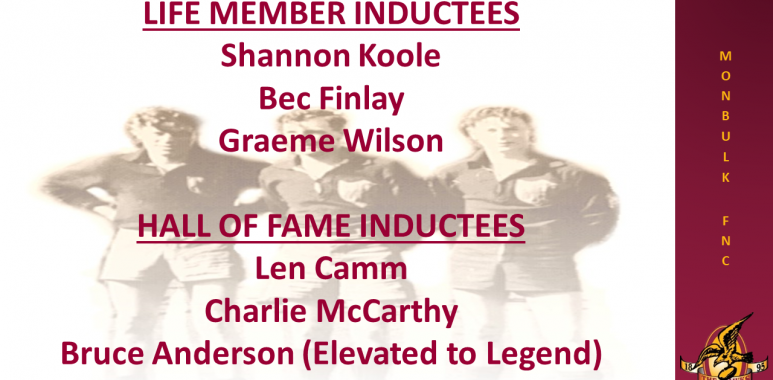 MONBULK FNC Inducts 3 new Life Members
MONBULK FNC Inducts 3 new Life Members
A Life Membership of the Monbulk FNC is the highest individual honour that the club bestows on any long standing servant of the club. To be eligible requires at least 10 years service. The three new inductees have all contributed over 20 years to the Monbulk FNC.
At the recent Life Members and Hall Of Fame luncheon held on July 10, Monbulk inducted Bec Finlay, Shannon Koole and Graeme Wilson as Life Members.
Bec Finlay has been involved in catering at functions and Thursday night meals over a 25 year period since the mid 1990s. She was awarded the Best Club Person in 1999 and has also spent time on the committee. In addition to this Bec also helped form the netball team in 2005, along with Shayne Broekhof and Leonie Taylor, when the YVMDFL introduced netball to the competition. She played 87 netball games – 26 A Grade, 60 B Grade, 1 C Grade between 2005 and 2012 which was limited by a torn achilles. Bec was the A Grade Coach 2006 – 2007 incl 2006 premiership, still the only A Grade pennant that the club has won. Bec was the club B Grade B&F 3 times in succession in 2010, 2011, 2012
Shannon Koole is one of the most decorated and respected footballers that the club has produced. He has played 314 games with the Senior club from 1999 up to 2019 – consisting of 243 Senior, 45 Reserve and 26 Under 18s. Shannon was the Club and League Under 18s B&F in 2000. He is a 4 time Senior B&F in 2003, 2009, 2011 and 2013 (equal club record) He was captain for 4 years in 2009-10 and 2014-15A two time Senior premiership player in 2005 and 2006 where he was BOG on both occasions Interleague representative on at least 6 occasions Shannon has also spent time on the selection committee and as an assistant coach. When he dropped back to the Reserves due to work he won further B&F awards in 2016 and 2017. Shannon also played 51 games with the Monbulk Junior FC 1997 – 1999, winning a B&F in each of those years. This takes his total career at Monbulk to 365 games and 10 B&F awards.
Graeme Wilson became a Monbulk FC sponsor in 1988. Through Garden City Plastics, which took over the old Camm's Monbulk Jam Factory site in Camms Road, The Patch, in the early 90s Graeme has now been a major sponsor of the club for over 30 years. The Garden City Plastics logo adorned the Log Cabin, scoreboard, membership tickets and backs of the training tops and football jumpers for years. To celebrate the 1998 premiership he made Marybooke, in Sherbrooke, available for Presentation Night. Without the significant contribution that Graeme has made in his time of being involved with the club, we would not be in as strong a position on and off the field as we are now.