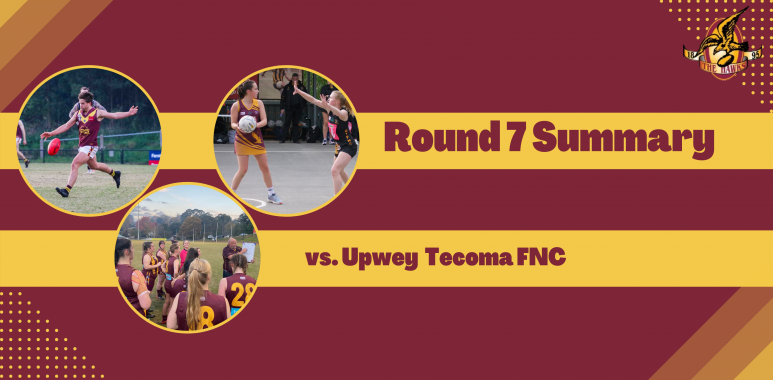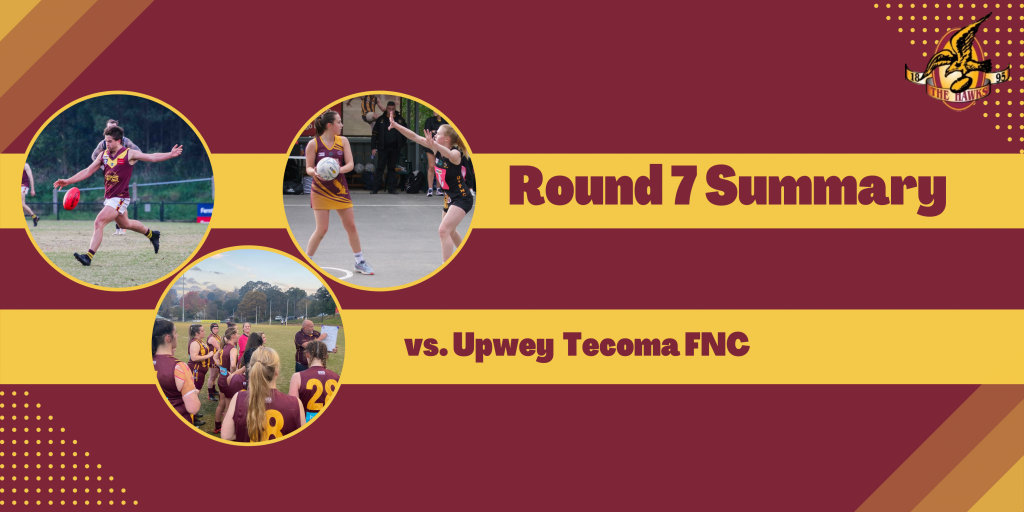 MONBULK TAME THE TIGERS 🦅
Outer East Premier Division Round 7
Monbulk and Upwey-Tecoma met at Upwey's 'Dome', with both sides needing a win to stay in touch with the Top 5. The Monbulk Senior footballers had not won at Upwey since 2015, and wins at that venue have been few and far between over the years. In the previous 50 clashes between these teams at Upwey, since the formation of the YVMDFL in 1966, the Tigers had emerged victorious on 37 occasions to the Hawks' 13 wins.
FOOTBALL 🏉 🏉 🏉
Seniors 🏉
In cool and overcast conditions Upwey started better and had two goals on the board in quick time before Monbulk steadied to slot through the next 6 majors. The Hawks then maintained a 3-4 goal lead for most of the second half until a couple of late goals set them up to record a convincing 35 point win. The win puts Monbulk back in equal 5th on the ladder as they maintain their perfect record on their road trips so far this season.
Upwey-Tecoma 8.9.57 def by Monbulk 13.14.92
Best: Thomas Taylor, Jayden Joyce, Glenn Strachan, Max Thornton, Mitchell Dekker, Joel Wensley
Goals: Glenn Strachan 3, Max Thornton 3, Taylor Joyce 2, Hayden Finlay 2, Pat Barge 1, Mitchell Dekker 1, Steven Oates 1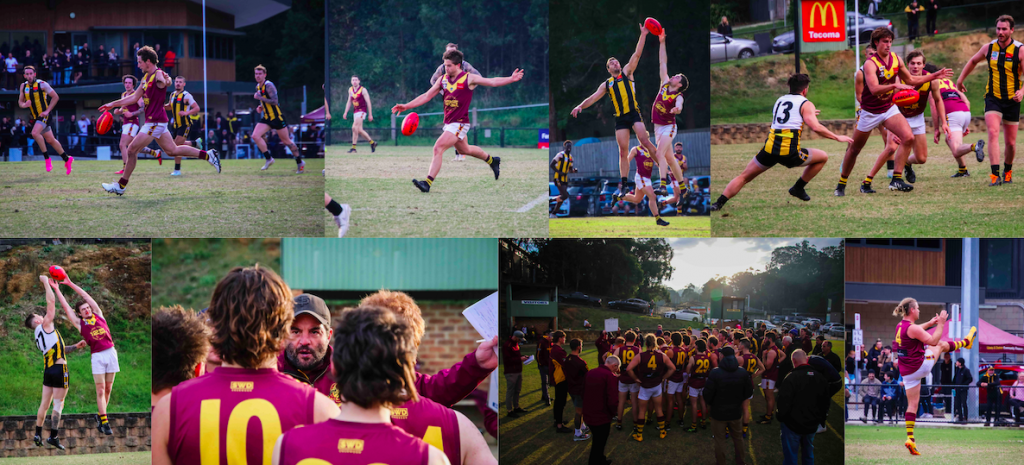 Reserves 🏉
For the Reserves clash between the same two clubs it was Upwey who proved victorious. The Hawks again had to cobble together a side on Thursday night and could only barely raise a team after a ring around to find fill-ins. The highlight of this match was father-son combination Steven and Tyren Utting playing their first game together in the same team after Steven (a 1997 and 2006 Senior premiership player) came out of retirement and played his first match since 2014.
Upwey-Tecoma 14.9.93 def Monbulk 4.4.28
Best: Lewis Oliver, Matthew James, Beau James, Chris Separovic, Tyren Utting, Steven Shankly
Goals: Beau James 2, Liam Swain 1, Josh Hill 1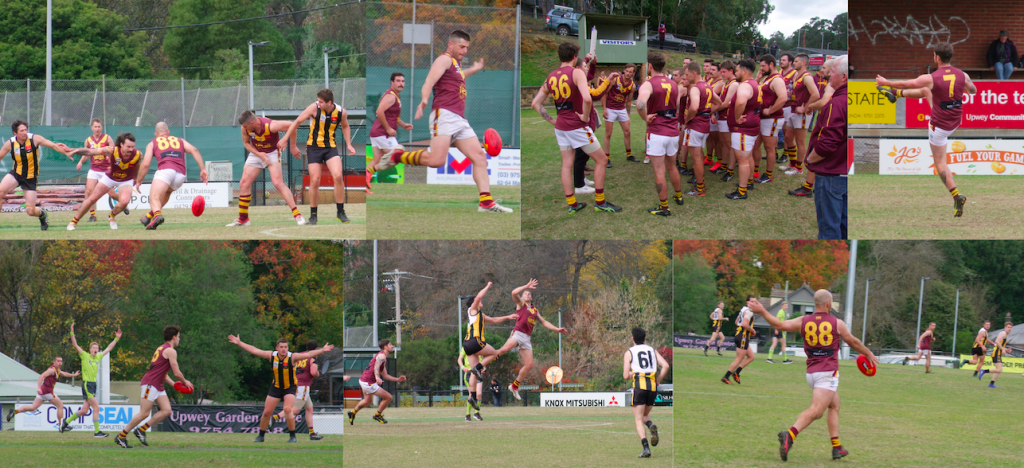 Under 19s 🏉
The Monbulk Under 19s started the match with just 19 players and this was reduced to 17 by the end of a torrid game where little separated the two sides on the scoreboard or in their endeavour. In the end Monbulk fell 4 points shy of victory with their three losses this season having been against the top three sides, and all were agonisingly by less than a goal.
Upwey-Tecoma 7.4.46 def Monbulk 6.6.42
Best: Jake Niclasen, Riley Finlay, Jayden Spencer, Tully Ford, Gary Ross, Harry Fleming
Goals: Jake Niclasen 2, Jed Noar 1, Harry Fleming 1, Riley Finlay 1, Patrick Snoxell 1
Women's Football 🏉
The Upwey Senior Women have a very strong team and proved to be a class above the Hawks although Monbulk never gave in and fought the game out to the end.
Upwey-Tecoma 19.26.140 def Monbulk 0.0.0
Best: Shania Turner, Indy Bakker, Shaye McLean, Molly Horne, Maddy Dodd, Rachael Foley

NETBALL 🏐 🏐 🏐
A Grade 🏐
The A Grade netball meeting between Monbulk and Upwey was a fast paced and energetic game where the Hawks triumphed by 10 goals. The victory was set up after a dominant first quarter where the Hawks managed to pile on 16 goals to 8. The win meant that for the first time in the clubs' history, both the Monbulk Senior footballers and the A Grade netballers won on the same day at Upwey (in 2015 the seniors won while A Grade received a bye as Upwey didn't field a team).
Upwey-Tecoma 47 def by Monbulk 57
Best: Stephanie Puopolo, Nicole Macdowell, Paige Whitworth
Goals: Tarnee Adams 40, Stephanie Puopolo 17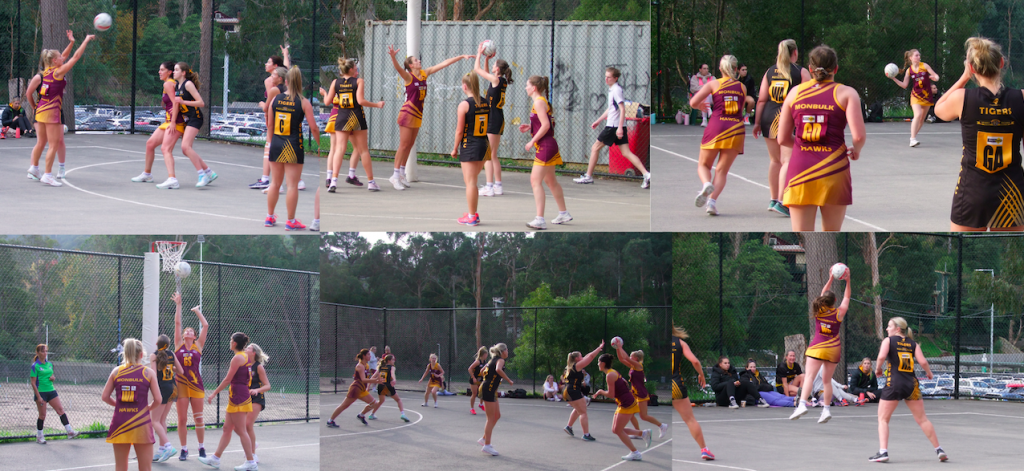 B Grade 🏐
Monbulk's B Grade team continues to accrue wins and are now outright second and just a game off top spot. Bookended by the de Wit sisters, this young team has gelled into a formidable combination.
Upwey-Tecoma 42 def by Monbulk 53
Best: Iris de Wit, Siobhan Munday, Fleur de Wit
Goals: Iris de Wit 30, Dayna Walsham 18, Olivia Crook 5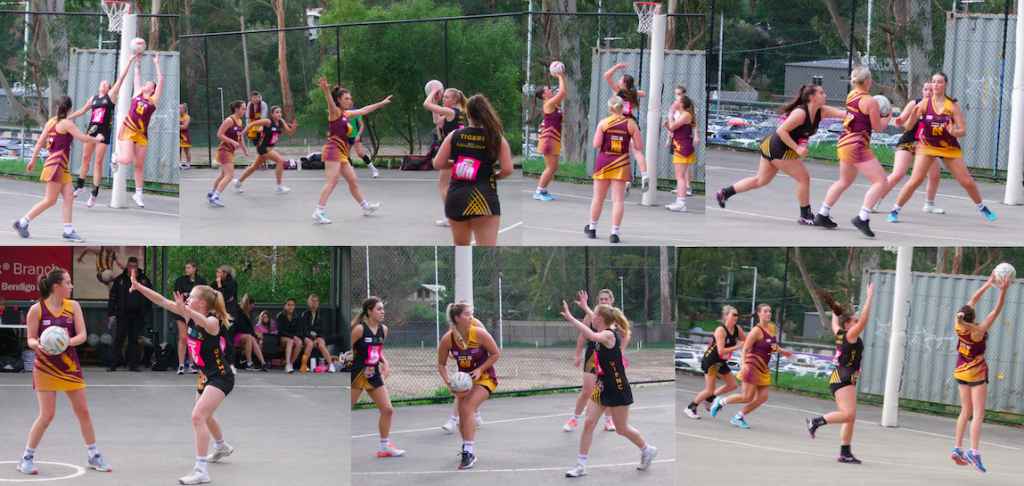 C Grade 🏐
Monbulk's plucky C Grade team are continuing to establish their systems which has not yet translated into more wins as Upwey proved to be too good this week. We welcomed back Lisa Boyle after her second bub and was wonderful to have her back on the court. 
Upwey-Tecoma 32 def Monbulk 18
Best: Courtney Witt, Sammy Beecroft, Chloe Schmidtke
Goals: Jamie Sands 13, Chloe Schmidtke 4, Jenna Schnehage 1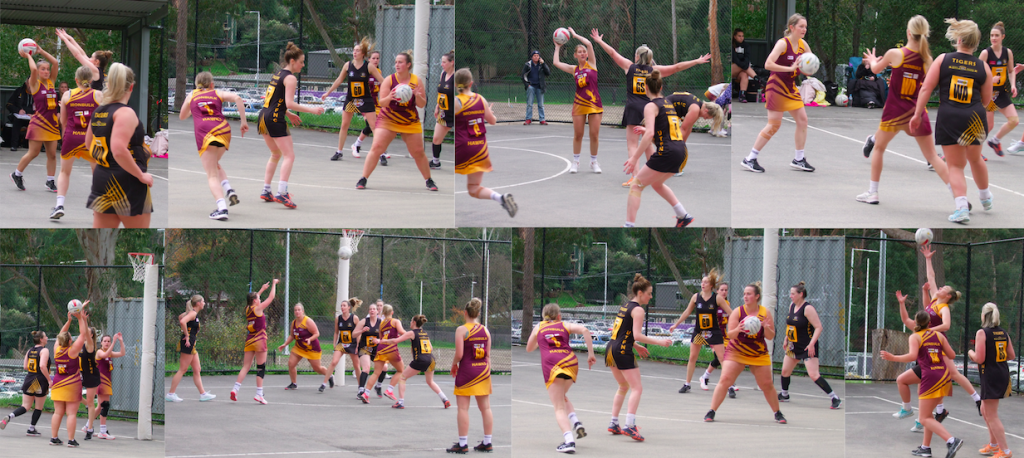 This upcoming Saturday we play at the Nest as 'Match of the Round', Mens Football and Netball take on Officer and our Women's football face Thornton-Eildon! 🦅 🦅 🦅