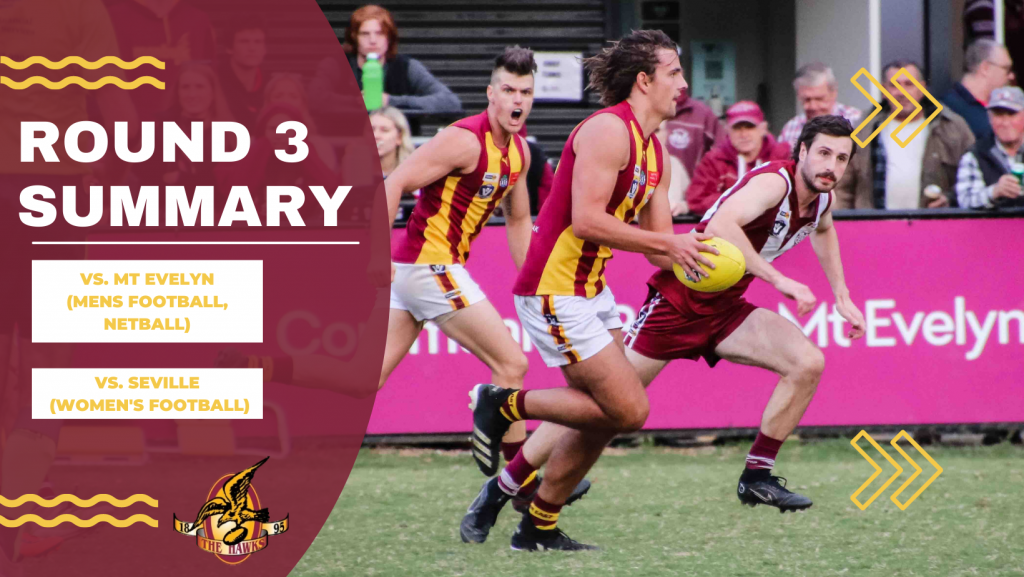 The Monbulk FNC travelled to Mt. Evelyn, where the facilities were heavily impacted by their building works for their new clubrooms, while the senior women played down the road at Seville.
Football 🏉 🏉 🏉 🏉
The Senior footballers have had many tight tussles with the Rovers on their patch over the years and this game proved to be no different. Mt. Evelyn gained a slight lead by quarter time and stretched it to 4 goals midway through the second term before the Hawks turned it around to find their radar and level the game by the long break. Despite having lost 3 players to injury, with only one left on the bench for rotations, the depleted Monbulk side ground their way out to a 27 point lead late in the game before hanging on to a 14 point win. This was Monbulk's 10th consecutive win at Mt. Evelyn and brought the head to head win/loss record against the Rovers to an impressive 33 – 8 record since Mt. Evelyn joined the YVMDFL in 2002.
Mt. Evelyn 12.8.80 def by Monbulk 13.16.94
Best: Kai Linde, Mitchell Veit, Dylan Werts, Glenn Strachan, Thomas Taylor, Hayden Finlay
Goals: Hayden Finlay 4, Kai Linde 3, Glenn Strachan 3, Ashley Beck 2, Lochlan Beecroft 1
The Reserves showed improved form and some promising passages of play but were not able to apply consistent pressure.
Mt. Evelyn 17.7.109 def Monbulk 6.3.39
Best: Lewis Oliver, Thomas Trezise, Tyren Utting, Tyrone Vear, Steven Shankly, Dylan Goldberg
Goals: Lewis Oliver 1, Ryan Gilbert 1, Joel Smith 1, Josh Rak 1, Sage Farmer 1
In the Under 19s Monbulk fielded a bare minimum 18 players against Mt. Evelyn, who were in turn able to muster 23. The Hawks were undaunted by the lack of a bench and were in control all day, notching their first win in commanding fashion by 59 points.
Mt. Evelyn 3.4.22 def by Monbulk 11.15.81
Best: Harry Fleming, Ben Hughson, Riley Finlay, William Henderson, Gary Ross, Benjamin Smith
Goals: Patrick Snoxell 3, Harry Fleming 2, Charlie Barge 2, Jai Farmer 1, Liam Lourey 1, Benjamin Smith 1, Riley Finlay 1
The Senior Women applied scoreboard pressure early and with great run and teamwork were able to consolidate a convincing win.
Seville 1.2.8 def by Monbulk 4.11.35
Best: Maddison Dodd, Shaye McLean, Shania Turner, Molly Horne, Laura Gillard, Simone Beattie
Goals: Maddison Dodd 3, Laura Gillard 1

Netball 🏐 🏐 🏐 🏐
In a less than ideal scenario the netballers were missing all 3 coaches due to Covid protocols.

In A Grade Mt. Evelyn made a strong start and got out to a 12 goal lead by half time. The Hawks fought back in the second half to go down by 7 in the end.
Mt. Evelyn 33 def Monbulk 26
Best: Sophie Stubbs, Mackenzie Oracz, Paige Whitworth
Goals: Tarnee Adams 19, Sophie Stubbs 7
B Grade were able to register a strong win which was set up with a dominating first quarter right across the court and finished the match with a 9 goal win.
Mt. Evelyn 26 def by Monbulk 35
Best: Iris de Wit, Georgia Himmelreich, Fleur de Wit
Goals: Iris de Wit 21, Dayna Walsham 10, Olivia Crook 4
The C Grade girls battled hard, showing glimpses of excellent play but faced a well tuned Mt. Evelyn combination and came up short by 29 goals.
Mt. Evelyn 45 def Monbulk 16
Best: Courtney Witt, Indy Bakker, Chloe Schmidtke
Goals: Jamie Sands 9, Chloe Schmidtke 7
Reminder that Ladies Day is THIS Saturday and all females of the club welcome! You won't regret it!
Up next….. we return home to play Olinda in both Men's Football and Netball. Our Women's Footballers have a bye – perfect timing with our Ladies Day celebrations! 🥳 🤩